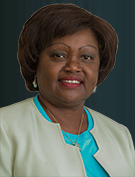 Dr Naomi Ngwira
Director
Dr Naomi Ngwira is an economist. Between 2012 and 2017 she served as Deputy Governor of Reserve Bank of Malawi (RBM) responsible for Economic Services, where she coordinated foreign exchange and monetary policy formulation and implementation. A major aspect of change she managed was the liberalization of foreign exchange policy and the full empiricization of the monetary policy formulation process. Before coming to the RBM Dr Ngwira was Director of the Aid and Debt Department of Malawi's Ministry of Finance, Economic Planning and Development. She has been lecturer and head of Economics Department at the University of Malawi. She has served on boards of various parastatals and private organizations including Nedbank, Malawi Development Corporation and Press Agriculture Limited. She has consulted for various UN agencies, African governments and OECD as well as NGOs.

In 2011/12 Dr Ngwira was on the advisory panel for the Minister of Finance of Ireland. In 2003 she was on UN Secretary General Kofi Anan's Special Commission on Women and HIV /Aids in Southern Africa. She was also the Chair of Special Law Commission to reform Family Law in 2004/5 at the Malawi Law Commission.

Her passion is to contribute to policy discourse that can lead to wealth creation for Malawians. In her professional work she also focuses on gender issues in economic development policies and programs

She holds four degrees in Economics from Universities of Malawi, East Anglia and Michigan State.