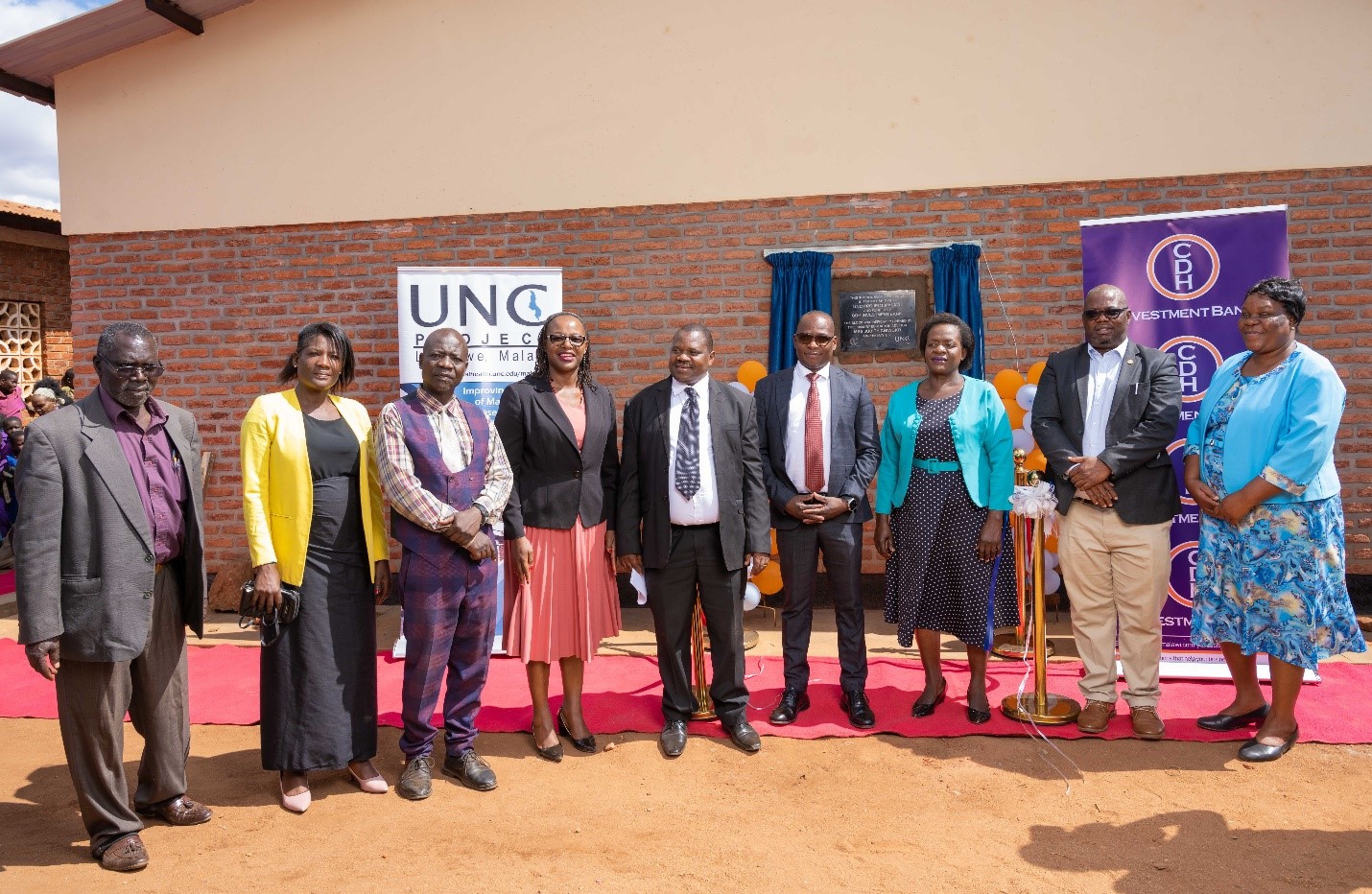 CDH Investment Bank, in partnership with UNC Project Malawi, has invested a K15 million school block at Nafutsa Primary School Dzama, Lilongwe.
The school block was officially opened on Wednesday 31st May 2023 by the guest of honor, Mrs Judith Chiwoko, the Primary Education Advisor. The event was also graced by representatives and staff from UNC Projects Malawi, CDH Investment Bank, the school committee, contractors, and students from the school and community members from the surrounding areas.  
Speaking at the event, CDH Investment Bank's Chief Business Development Officer, Mr. Benison Jambo shared that CDH Investment Bank is excited to contribute to Dzama's story through the investment in the school block. "Our cordial relationship with UNC Project has allowed us to appreciate the good work the project is doing in provision of a variety of health care services that strengthen the health systems in Malawi, and go beyond to create value with various corporate social initiatives such as the Dzama Educational Development Program which they operate."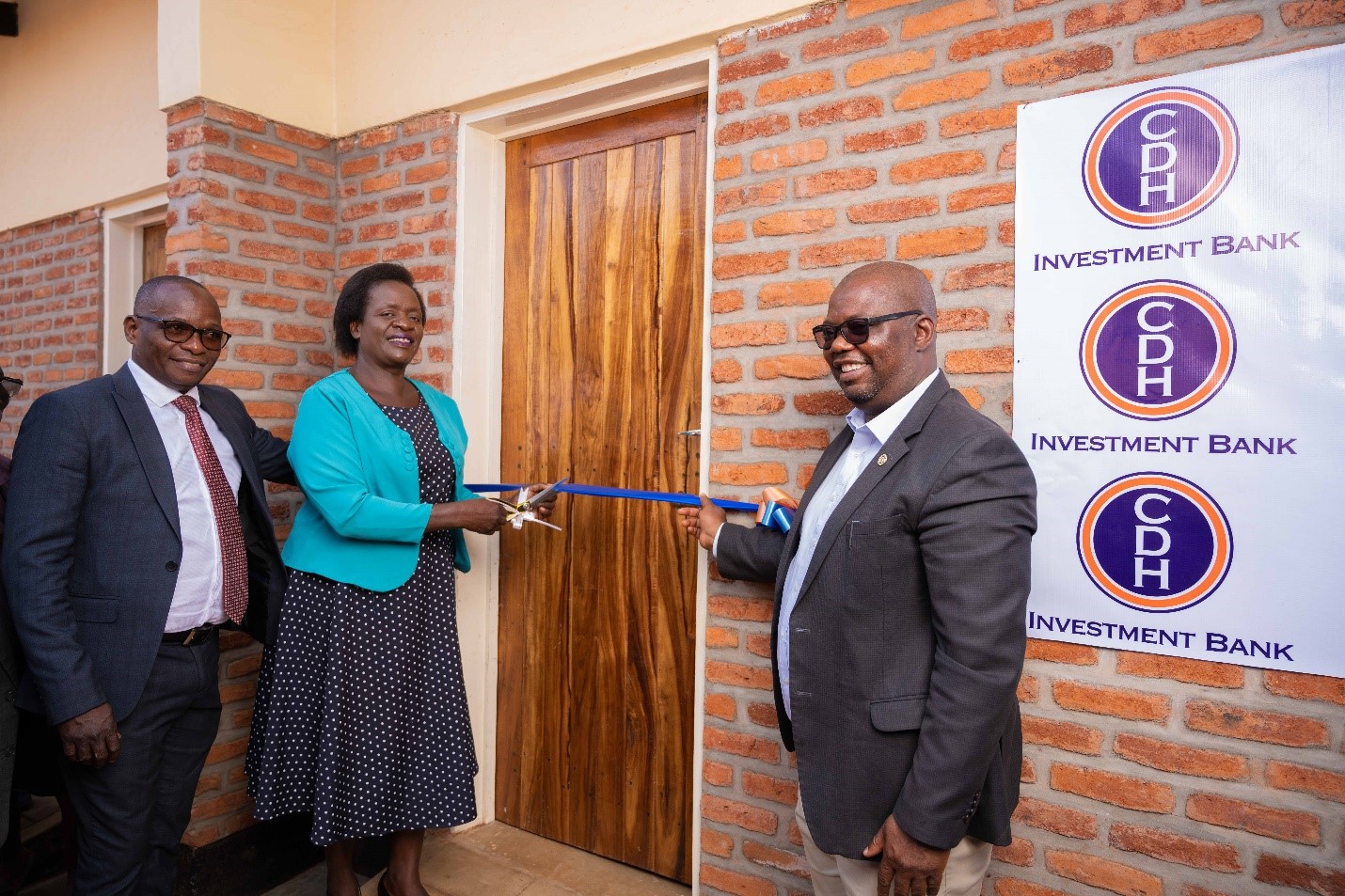 The Guest of Honor, Mrs Judith Chiwoko, in her remarks, thanked CDH Investment Bank for creating value by investing in the school block that will improve access to education and help the students gain knowledge, and in the process empower their communities and develop the nation. She appreciated the relationship the community has with UNC Projects that has brought development to the area. In addition, she called upon well-wishers to support the program as the area still needs additional infrastructure such as toilets and teachers houses. "The school block is a great investment and will have a positive impact on the destiny of our children but we need more support" she said. 
Speaking at the ceremony, Senior Group Dzama thanked CDH Investment Bank and UNC Project for the gesture and expressed joy on having the school block constructed. Speaking on behalf of the school, the Headmaster, Mr Malseni Kafundu thanked UNC Project and CDH Investment Bank for the structure that will respond to the infrastructure challenges. He said that the new school block will go a long way in encouraging school attendance at the school.
UNC Project Country Director Mr. Innocent Mofolo thanked CDH Investment Bank for its commitment to partnerships and supporting the projects corporate social responsibility. He applauded the investment which is the largest UNC Project has received locally and that it is a testament of the commitment the bank has towards development. The Country Director and representatives from UNC Projects, Dzama Educational Development Program and the community were pleased with the investment that will help many children and support community development.
CDH Investment Bank opened for business on April 2, 2012, following the successful conversion from Continental Discount House Limited, which had operated in the financial sector for 14 years since August 1998. The bank celebrated its tenth year anniversary providing banking services in 2022 and is committed to providing banking innovations that help businesses, individuals and communities to grow.
External link: https://www.nyasatimes.com/university-of-north-caroline-project-cdhib-hand-over-school-block-to-community-in-lilongwe/