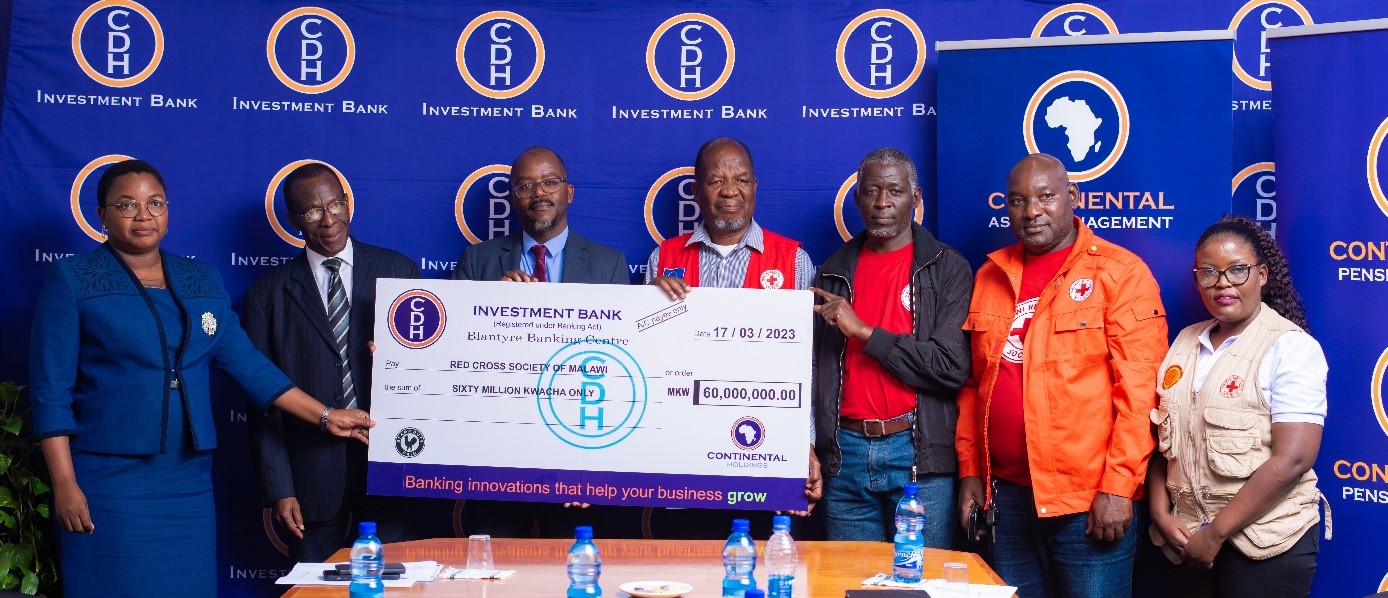 CDH Investment Bank Limited, a subsidiary of Continental Holdings Limited along with its sister companies, Continental Asset Management Limited, Continental Capital Limited and Continental Properties Limited have donated K60 million to the Red Cross Society of Malawi for relief efforts to victims of Cyclone Freddy.
Speaking in Blantyre at the presentation function Mr Kingsley Zulu, the Group Financial Controller of Continental Holdings Limited and Director of CDH Investment Bank said that during difficult times like these, it is very important to join hands with the Government of Malawi and the entire nation to lend a helping hand to those who have been negatively impacted by the cyclone.
"Cyclone Freddy has left a huge disaster in its wake. A lot of infrastructure, particularly people's houses, roads and bridges have been damaged, livelihoods have been shattered and so many people have lost their lives and a lot more have been rendered destitute, stated Zulu, adding: "The extent of this devastation cannot be left to Government alone to deal with. It is commendable to see how many people have pulled together resources to assist those in need and we are proud that our staff have also mobilized support to aid those affected by the cyclone in their personal capacities under various organizations, or religious groups. "
Receiving the donation, Mr McBain Kanongodza, Secretary General (CEO) of the Red Cross Society of Malawi, hailed Continental Holdings Limited and its subsidiaries, namely CDH Investment Bank Limited, Continental Asset Management Limited, and Continental Properties Limited for their gesture in supporting victims of the devastating Cyclone.
External link: https://continentalholdings.mw/2023/03/20/continental-holdings-limited-contributes-k60-million-to-cyclone-freddy-relief-efforts/ or The Nation newspaper, Tuesday 21st March 2023, page 15.