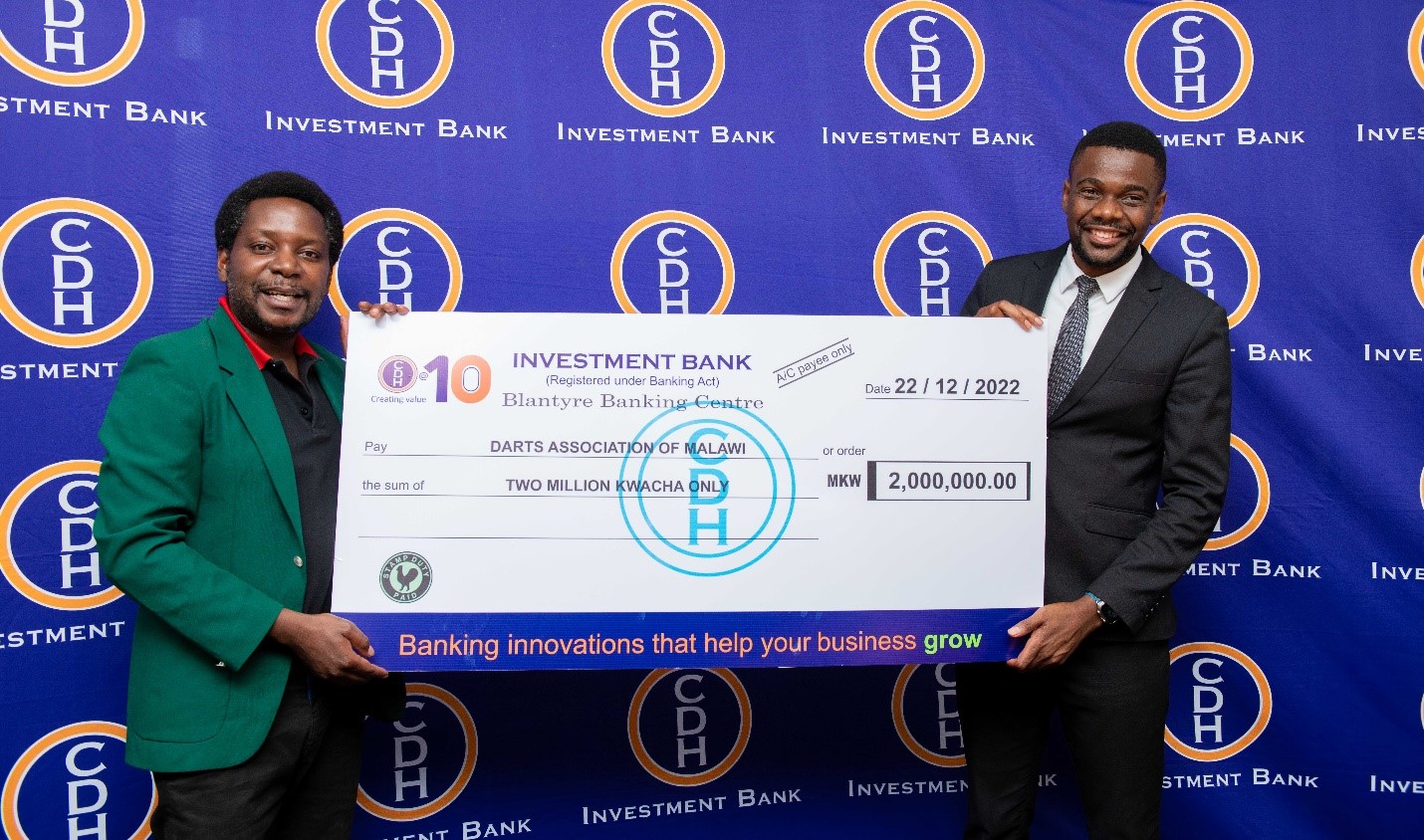 In recognition of positive strides that Darts Association of Malawi has achieved over the years at international level, CDH Investment Bank injected K2 million towards the hosting of the 2022 end of year national championship — the Darts Association of Malawi (DAM Cup). Presenting the sponsorship on Thursday 22nd December 2022, CDHIB's Corporate Banking Manager, Jamal Kamoto said this is part of CDH Investment Bank's corporate social responsibility (CSR) to support recreation such as sports. "We have assisted Darts Association of Malawi before and we were compelled to do so to continue encouraging them to do well".
Kamoto said: "in celebration of our 10th anniversary, we decided to cement our partnership with Darts Association of Malawi for their end of the year championship, in which the best are considered to represent Malawi at international level. This support — as has been in the past — is our appreciation to the darts fraternity that has made us proud at international level."
In his vote of thanks, Darts Association of Malawi general secretary, Chikondi Kachinjika said they were pleased to receive the donation having been in partnership for a long time. "Through the support, we have been able to encourage youths and ladies to join the sport." 
CDH Investment Bank first rolled out as Continental Discount House Limited in August 1998 operating in the financial sector for 14 years before converting to CDH Investment Bank. The bank is celebrating the 10th anniversary of providing banking services under the theme 'creating value' having grown through leaps and bounds in its positive contribution to the growth of many individuals, organizations and communities — and ultimately the nation.
External link: https://www.maraviexpress.com/cdh-investment-bank-sponsors-k2m-towards-darts-associations-end-of-year-national-championship/