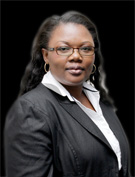 Lusekelo Mwamondwe
MSc Banking, PGDip Management, ACI, CAIB (SA), BSc
Chief Treasury Officer
Ms. Mwamondwe has 17 years banking experience with skills in retail banking, treasury management, asset and liability management, corporate banking and relationship management, international trade operations and structured trade finance. She worked with Standard Bank for 8 years, initially as graduate trainee in retail banking (3 years) and as treasury dealing manager for 5 years. In 2005, she joined NBS Bank Limited as Head of Treasury and International Trade, where she worked for 9 years, before joining CDH Investment Bank as Chief Treasury Officer in April 2014.
She brings to CDHIB strong analytical and mathematical skills, deep product knowledge in forex markets, money markets and lending as well as a structured approach to client sourcing, retention and relationship management. She is currently studying towards a Chartered Banker MBA qualification (UK) and additionally, holds the following qualifications;
an MSc in banking and international finance from Bangor university
a post graduate diploma in management from Graduate School of Business (GSB) of the university of cape town
Chartered associate banker (treasury management and international banking) with institute of bankers in south africa
Certified dealer in forex and money market by ACI-the financial markets association
Bachelor of science (Mathematics major)