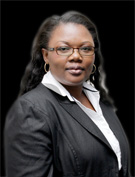 Lusekelo Mwamondwe
MSc (International Banking and Finance)
Chief Treasury Officer
Ms Lusekelo Mwamondwe was appointed to her present position of Chief Treasury Officer at CDH Investment Bank on 1st April 2014, having formerly worked at NBS Bank Limited, where she spent eight years heading Treasury and International Trade Division and one year heading Corporate and Institutional Banking. Prior to that, from 1997 to 2005, she worked for eight years at Standard Bank, working in International Trade, Treasury and Retail Banking.
Her client focused roles have exposed her to both retail banking and global financial markets focusing on forex trading, money market instruments, international trade operations and finance, asset and liability management, custodial services, credit underwriting and management.
Lusekelo has a BSc in applied Mathematics and Physics from the University of Malawi. She also holds a Certificate in dealing from ACI Paris, MSc (International Banking and Finance) from Bangor University, a Post Graduate Hons. Diploma in Management from the University of Cape Town and she is a Chartered Associate of the South Africa Institute of Bankers with specialty in Treasury Management and International Banking.